Hey guys! Happy New Year! Wow! It is already 2018! I thought I would share with you some tips and tricks to make this semester a GPA booster. Enjoy and be sure to leave any other tips you have down below!
Try to make at least one friend in each of your class.
This may seem a bit crazy, but trust me, with all those due dates and imminent exams, you will be glad you have a friend to contact. I found this was very helpful because instead of emailing professors or TA's once a day about assignments or exam formats because I was too busy zoning out in class, I could just text that friend and ask him or her.
2. Keep the syllabus and due dates handy.
This is a really important one because when you have a million things due, small assignment dates can easily be overlooked. Even for procrastinators, if you suddenly realize a three-page paper is due tomorrow at 12pm, it might be a bit late. I find it helpful to print out syllabi for all the classes, and the real trick is to keep them all in one place (e.g in the same folder). This way, you have a lower chance of misplacing them, and it will be much easier to just peruse through all your classes beginning of the week and see what is due when.
3. Before buying all the textbooks, see if they are actually needed.
Every professor, or at least most of them, are obligated to encourage students to get a textbook as part of the course material for their classes. However, this does not necessarily mean that you need the textbook. There are plenty of classes in which the professors' lecture notes alone will suffice and are actually much more coherent with the material that will be on the exams. Most likely, if you do the required assignments and attend the lectures, you may just get around not buying the textbook. I usually think of textbooks as supplementary material; if I find particular topics rather abstruse, then I turn to the textbook.
4. If you don't want to fall asleep, sit up close.
There is nothing wrong with sitting up front. It will coerce you to pay attention a bit more, and prevent you from going on your phone every 20 minutes, or chit-chatting with your friend next to you.
5. Try to print readings out.
This may seem a little cumbersome at first, but come on, you have $30 to use up in printing, and we all know it is not that easy of a task to do that when it is the last day of the semester, so why not start using that money to print those pdf readings? By reading it on paper, and physically making notes and highlighting key points, you glean much more from the readings.
6. Keep course notes organized from now.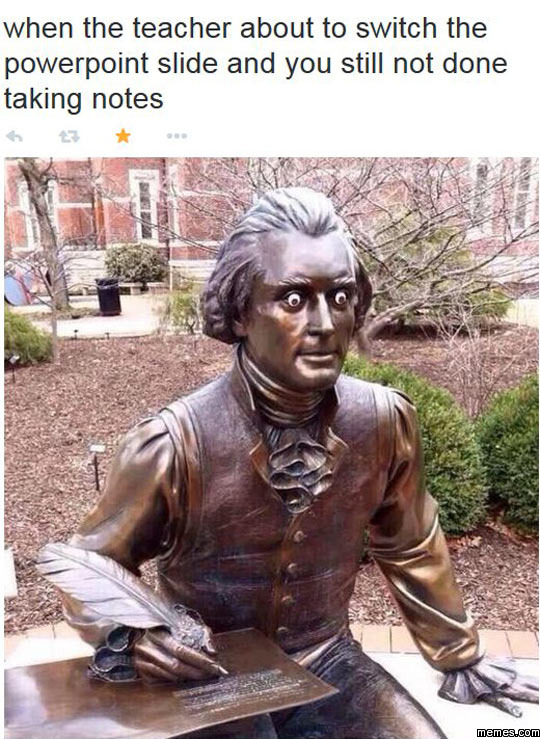 Now, the beginning of classes is the BEST time to start to take notes in an organized manner, so that in the last week of finals, you won't be scouring your fat notes-folder of five different subjects for that one particular chart of useful equations. When taking notes on the laptop or on paper, try to have separate folders for the classes or at least limit a folder to maximum two subjects. This goes for taking notes in composition notebooks too.
Thank you! Have a GPA-boosting semester! Good luck!