YASSSS! First week of the semester = DOWN. Okay, sooo…now what? Things seem a little crazy–new classes, new places, new faces. It's understandable that you may be feeling in need of some organization. 
YOU'RE IN LUCK….because here are 3 tips to get you started!
#1: GET A PLANNER
Feeling like your head's about to explode from all the assignments you're trying to remember? Before your brain goes KABOOM!, please give it a rest and actually write down all the things you have to keep in mind. Making lists is the first step in giving your mind a break. The next one is to organize (<–key word) the items in that list in an easy, eye-appealing, and effective manner, which should signal…DING, DING…planners!
Planners make it a lot easier to remember all of your homework, quizzes, exam dates, and club meetings and events–just pour all of those things from your mind to the pages of your savior. When picking out a planner, make sure it's something you'll like looking at. The appearance of the organizing item that you'll use repeatedly makes a difference in how often you utilize it! If it's something drab and boring, you might just rather feel like continuing to store assignment due dates in your mind.
And of course, if the planner doesn't have effective organizing methods, why use it at all? When I selected my planner, I looked for the following: monthly calendars, daily calendars with enough space to jot down work, a fun and exciting interior and exterior, and yes….stickers 😉 . I was very lucky to have come across a planner from ban.do, which fulfilled all of my criteria! It's a 17-month planner that's incredibly useful and incredibly fun to use. I mean, it's so creative and engaging that it has cute morale-boosters, funny suggestions on what to do for the weekends, countless empty "Notes" pages, stickers (of course), a large pocket for things you'd like to stash, eye-catching illustrations, and a whole secret code it uses throughout!
#2: Make A Schedule
We all need some form of structure in our lives. A great way to maintain that is by creating a schedule that outlines your classes, extracurricular activities, job/internship hours, homework, meals, time for yourself, and sleep. The last three are perhaps the most important parts of your schedule. When our college work hits or we're studying for hours on end, it's crucial that we remember to tell ourselves: I REQUIRE SUSTENANCE (Thor reference).
Time for yourself is equally important–we all need time to relax, wind down, and enjoy, whether it be socially or individually. And of course…SLEEP. Folks, how are you going to refrain from feeling like a Walking Dead zombie if you don't sleep at least eight hours a day? Use time management to ensure that you sleep enough, in addition to the other things on your schedule. Remember–your life isn't set in stone. So keep your schedule flexible. Color code it, too!
#3: Plan Ahead
Planning ahead MAY stress out some students, but this can be as simple as planning out your day. It doesn't have to be planning out your entire week. This method helps you keep track of all the things you may need to do and prevents you from forgetting something. Planning ahead can also mean aiming to finish assignments a day or two before their due dates, so that you have time to spare lest something else crops up. Don't leave things for the last moment, including studying for exams. When you cram, you'll tend to forget most of what you tried memorizing an hour (or less) before your exam. Pace yourself and study in chunks by planning ahead about when you'll study what. Start with a simple To-Do List, but, uhm, have something on it to do, unlike Patrick.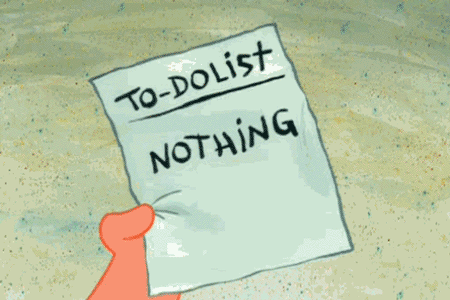 Start organizing!! 😀 
~ Tanya B.