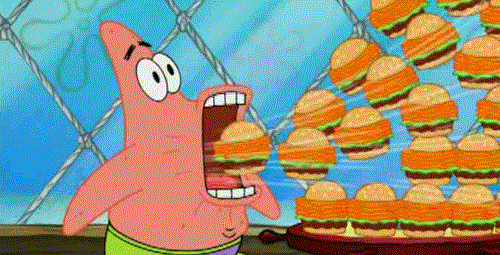 I'm a commuter, and I'm hungry. ALL the time. And I spend most of my time (and money) at my top 4 favorite RU food destinations (when my lunchbox from home is empty, but my pockets aren't). What are they? Read to find out, of course.
#4: Henry's Diner ~ Livingston Plaza
I honestly couldn't decide if I wanted to place Henry's at a tie with #3 (which shall remain unnamed for now). Apart from offering an aesthetic atmosphere, Henry's also provides what seems like an unlimited amount of meals to choose from on the menu (that's designed to look and feel like a newspaper, by the way!). You want eggs? Well, there'll probably be more than twenty ways to have them. You want chicken? Prepare yourself to choose from a variety of chicken dish combinations. Orrrr, do you want to have pasta? Then you can Build Your Own Pasta Bowl!! What I'm saying here is that there's a lot you can choose from when it comes to Henry's. And the food itself? It won't let you down. I usually have Chicken Marsala or Chicken Parm, which comes with a side of veggies and your choice of starch–rice or pasta. And the pasta bowls are so creamy and definitely exceed expectations. These dishes are super delish and extremely filling. Last time, my friend and I left with a food coma because there was so much "GOOD" to eat. Alas, Henry's falls on the expensive spectrum for us college students, but hey, if you want a nice lunch out once in a while, this is the place to go!
#3: Moe's ~ Busch Campus Center
Moe's: my go-to place to eat with my best friend! After a long lecture, this is the food we choose to dig in to cool off and rejuvenate. It's quite healthy–a salad-like bowl that you build, with free tortilla chips and salsa in your bag (that's designed like Mad Libs, by the way!) It's a lot like Chipotle, so if you're looking for something similar without taking the A or H bus to College Ave, then this is for you!
#2: Mamoun's Falafel Restaurant ~ College Ave; Easton
Ever wonder what Middle Eastern food tastes like? After going to Mamoun's, you will definitely know. Mamoun's offers authentic Middle Eastern dishes, along with some beautiful Middle Eastern music! The chicken kebob sandwich is. AMAZING. That's what I have every single time I go there, because I truly can never get enough of it. It's  marinated cubes of juicy chicken with lettuce and tomatoes stuffed inside soft, fluffy pita bread. Tahini sauce, made from tahini paste (crushed sesame seeds), lemon juice, garlic, and water, is generously added inside this sandwich. I always ask for feta cheese in that sandwich as well, because why not? (Remember, folks, there is never "too much cheese" in this world.) Aaaand, of course, Mamoun's Falafel Restaurant proffers the best and real falafel on the East Coast. Falafel, or deep-fried balls of finely ground chickpeas, onions, parsley, garlic, and spices, also comes in a sandwich option at Mamoun's. Try this restaurant–you won't be disappointed!
#1: Hidden Grounds ~ College Ave; Easton
This, my friends, is only one of the many pictures of my coffee from Hidden Grounds. Not only does this fantastic coffee shop have stunning latte art, but it also has one of the best coffee concoctions ever. EVER. That up there is a cup of Nutella Mocha–coffee, but with the perfect amount of chocolate sweetness drizzled in. Every cup I have at Hidden Grounds is steamed, stirred, and served with actual perfection. The atmosphere of this place will make you want to whip out your notebook and just start scribbling away. The suave wooden surfaces of the tables, chairs, stools, and counters are simple, but just so soothing, and they also make an ideal setting for a date. 😉 There's also food available here, from the Bombay Sandwich to Vegan Cookie Brittle! I just adore Hidden Grounds, and it's my favorite place at Rutgers, not to mention on Earth.
Hope y'all visit these excellent places for a bite–or drink–at one point!