It has been just a little more than a week since Summer 2017 started, and chances are, you're already starting to feel slightly bored. "WHAT AM I SUPPOSED TO DO WITH ALL THIS FREE TIME? UGHHH!" might be something that's going through yoor mind (or maybe not, but whatever, read this anyway). "OH PLEASE, SOMEONE SAVE ME FROM MY BOREDOM!!"
WELL, you've come to the right place to prevent yourself from staring at a wall all day, and maybe even becoming a wall. Here are some steps to take to NOT get bored over this summer:
Set Goals for Yourself!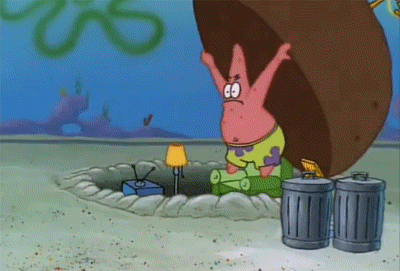 Y'all ever finish finals and say to yourself, "Man, I really deserve this three-month break from life!" And then after the first week, "Man, I really am not doing anything in my life right now," until it gets to, "Man, I've literally been like Patrick under his rock all summer." Folks, you do NOT want to feel like Patrick by the time September rolls around (sadness). To combat that, you need to come up with goals that you'd like to work on over these three months. Personally, I've come up with around nine goals for the summer. But goal-setting doesn't end there. Nope. Next, you must plan HOW you want to go about achieving those goals. This means coming up with sub-goals, schedules, dates and times, and even deadlines. Yes, I know, this sounds tedious, but trust me, it's the only way to actually be productive. Once you give yourself a timeline or schedule to work with, you'll feel motivated to go ahead and stick to it as you will feel driven to fulfill that goal. And then, when September does roll around (sadness), you'll feel proud of yourself for achieving your goals, regardless of how many you set up for yourself!
So…What Goals?
You might be thinking, "I have no life; therefore, I have no goals." Guess what, Descartes will tell you otherwise: "I think, therefore I am." YOU think, therefore you ARE, and therefore, you are also very capable of setting goals for yourself. These can be small goals and do not have to be numerous: you can even set just one or two goals for yourself. Or, they can be long-term goals that you want to begin working on over the summer and can be nine (like mine) or ten or more! The amount and type does not really matter, as long as you think you can handle what you are planning for. For example, one of my goals for Summer 2017 is to write. I've come up with sub-goals: What do I want to write? Next, I've scheduled time for these writing projects. Finally, I'm in the process of rationalizing just how many of these projects I would ideally like to complete by September. For instance, if we're talking about the fantasy fiction novel I want to write, then I'm allotting six hours per week towards that and aiming to finish 10-14 chapters of it!
JUST DO IT!
Listen to the words of Shia: JUST DO IT! Why would you not do the goals, which should be meaningful and purposeful, that you've planned to do? Aim for better. Strive for the stars. But most importantly, feel proud of yourself, and use the above GIF of Shia as motivation!
So set some goals for yourself; plan them out; and start working on them for a better, not boring, and productive Summer 2017! 🙂