"My life is a money garbage disposal," is quite possibly the greatest and most relatable quote to ever come out of Buzzfeed's "Ladylike" series and I quote it at least once every day.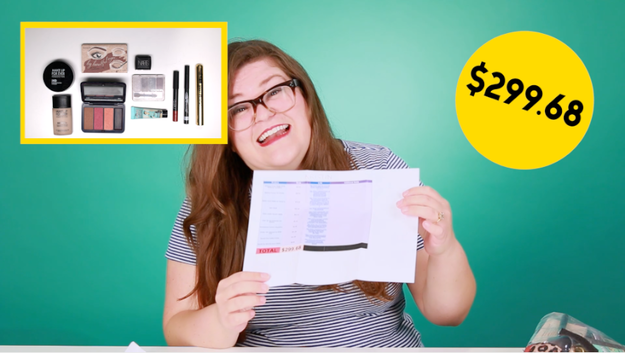 With it being the holiday season, in the past few weeks I have seen a drastic change in the amount of money in my bank account. Unfortunately, this drastic change is more negative than positive.
Fortunately (depending on how you look at it), a good portion of the people I would want to buy gifts for is made up of broke college students so we're all more or less in the same boat.  
The solution to the lots-of-love-and-little-funds problem is the good ol' Secret Santa, which is code for "You guys are great, but last week we fought over a quarter we found in a puddle, so here's a fun excuse to only buy one person a gift this year. Yay!"
I really love Secret Santas, you guys. I like the feeling of not knowing and I love the feeling of surprise you feel when you discover who was your Santa and I love the look on the face of the person who discovers their Santa was me. They're nice feelings. Good and pure and feels like the magic of the holidays has entered the dorm that hasn't been clean since August.
Last week, my roommates, our honorary roommate, and I exchanged our Secret Santa gifts and while everyone was super excited about the gifts, everything about the exchange was an insult to the very name the Secret Santa. I was morally offended.
So here's how not to do a Secret Santa.
Learn from our mistakes, children.
First, make sure no one (NO ONE) finds out who you have. Because it's a secret.
I mean, making sure the person you're getting a gift for doesn't know who you are just makes sense. It's called a Secret Santa for a reason. Just like curiosity killed the cat, curiosity also kills the core principles of the Secret Santa. Because once one person finds out who you have, you find out who they have, and then you learn who everyone has, including who has you, and, well, there goes the surprise.
Second, make sure the person you have DOES NOT find out what you got them. Because it's a secret.
When your roommate, whom you lovingly bought a gift for, goes into your room, rifles through your drawers, picks up the present which you wrapped in Monday's newspaper, and then shakes it, we have failed, morally, as a society. Is nothing sacred?
Must curiosity destroy everything? I swear to God the last words that will ever be said by a human being will be "What's this button do?"
We were not made to last as a species.  
Obviously I was a bit upset that everyone in my Secret Santa group knew who had them and more or less what they were getting. Perhaps irrationally so. Some would say there was yelling and an impassioned and incoherent speech about the "magic of Christmas" and the "sanctity of privacy" involved, but if those certain people want to tell their skewed and biased version of the events that transpired last week, then they can go ahead and write a blog post about it.
But, you know, at the end of the day, even though there were no secrets involved in any aspect of this Secret Santa, there was still surprise and fun and holiday magic. I mean, I'll devote a disturbing amount of energy into making sure that the next Secret Santa will actually be a secret, but whatever happens will happen. Secret Santa not being a secret doesn't destroy the sentiment.
"You're a person I enjoy being around and I spent two weeks thinking about who you are and what you like so I could make you happy."